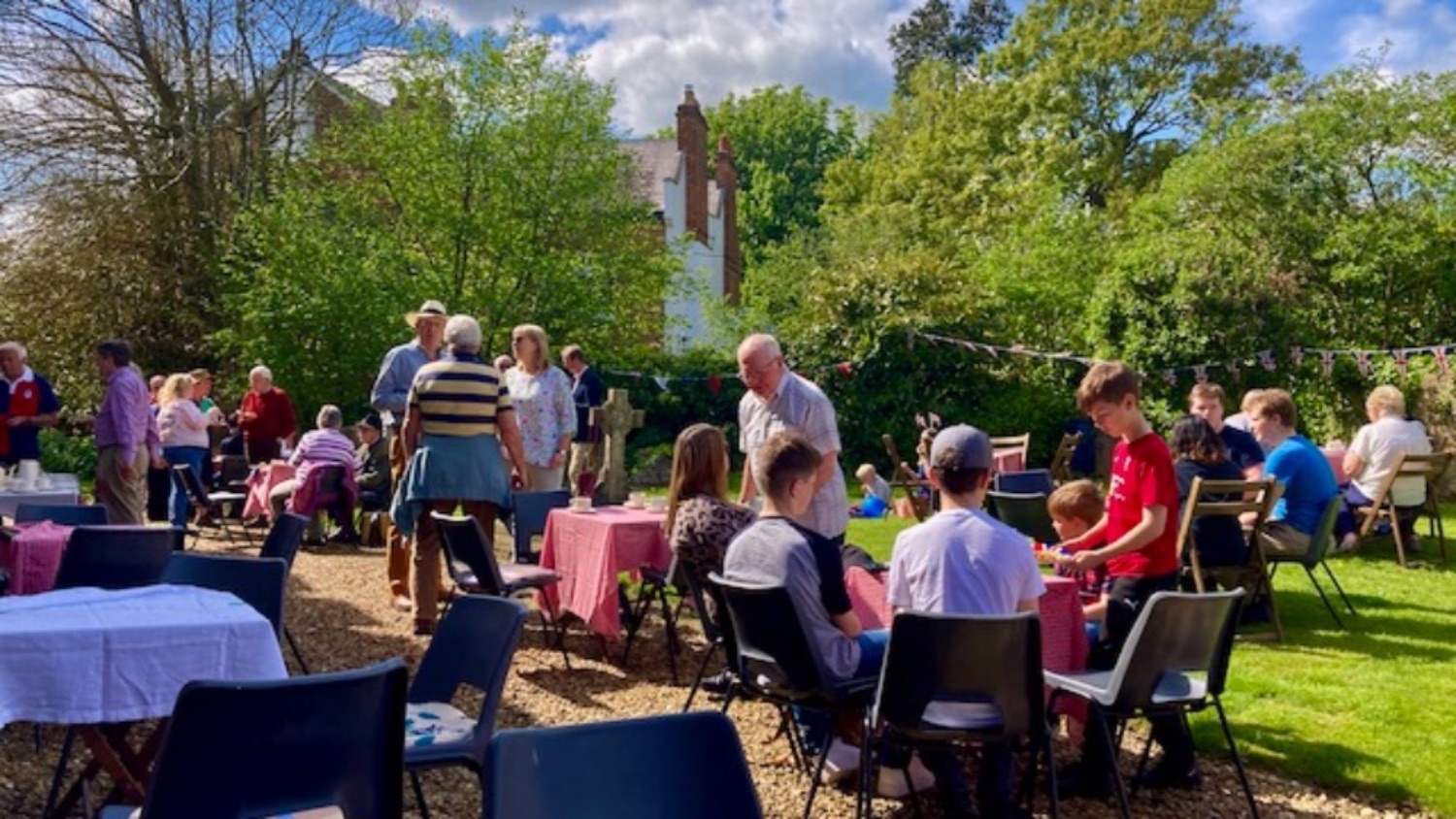 Coronation Tea - 7th May 2023
A Coronation Tea was held in the grounds of St Lawrence Church to celebrate the coronation of King Charles III.
We were fortunate to enjoy bright, warm sunshine between days of heavy rain. Almost 60 people attended.
Thanks are due to those who donated and prepared the food so the event could be held without charge. Particular thanks are due to Mrs Bobby Sparshott who made, decorated and donated the impressive cake. Thanks also to those who transported and set up the tables and chairs.
Robert Ruck-Keene gave the loyal toast, David Robertson played the National Anthem on the melodion, and David Blamires distributed commemorative mugs to all schoolchildren present.
It was a memorable occasion, enjoyed by everyone present.
Photos from Alison Brackenbury
Alison is descended from the Wright family and her grandmother Amy Mary Wright lived in The Thatched Cottage, Bedlam Lane in the early 1900s. Alison would appreciate information on who took the photographs if anyone knows.
Early 20th Century Photos
St Lawrence Church, Chicheley Hall, the vicarage and various people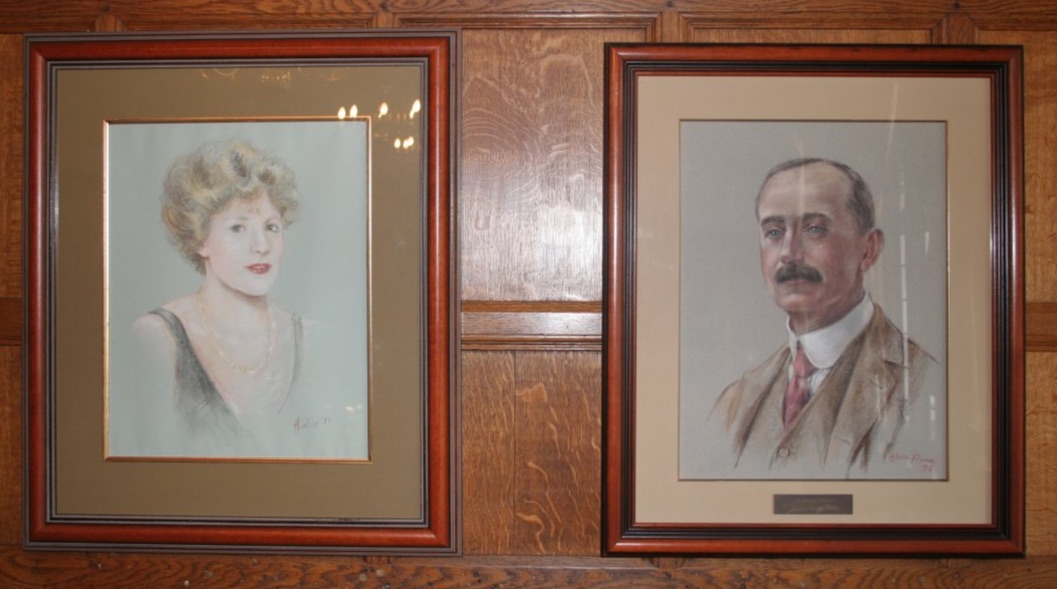 Sir George Farrar
Sir George Farrar was tenant of Chicheley Hall at the turn of the 19th and 20th Centuries. He divided his time between Chicheley and Johannesburg, South Africa, where he had an adventurous life as a mining magnate, politician, and soldier.
He was born in Cambridgeshire and educated in Bedford, before travelling to South Africa in 1879 with his family's engineering firm. He founded East Rand Proprietary Mines (ERPM) in the east of Johannesburg to mine the recently discovered gold deposits. A suburb of eastern Johannesburg is named Farrarmere in his honour. His South African home was in the suburb of Bedfordview, named after Bedford. It was designed by Sir Herbert Baker who also designed Chicheley's War memorial.
Sir George took part in the controversial and unsuccessful Jameson Raid that aimed to overthrow the Transvaal government of Paul Kruger. Sir George was captured and sentenced to hang, but his sentence was commuted for a large fine. He later saw military action in the Anglo-Boer War and after that became a member of the South African parliament as well as Chairman of the Chamber of Mines. In this position he was involved in unpopular decisions to import Chinese labourers to work in the mines.
With the outbreak of World War 1 he was appointed Assistant Quartermaster General with responsibility to restore the railway line to German South West Africa (modern Namibia) to supply the British troops attacking that colony. On 19th May 1915 he was involved in a railway accident and died of his injuries. He received a state funeral and was buried in the grounds of his South African home. A memorial service was held for him in St Lawrence Church, Chicheley on the same day, and his name appears on the Chicheley War Memorial.
Photographs of Sir George and Lady Farrar's Johannesburg home, and his grave, are shown below. Since 1920, the house has been home to St Andrews, one of the leading girls' schools in South Africa.

Photos from the 1970s
Many thanks to Mr & Mrs Litchfield for these photos of Chicheley residents and friends.
World War 1 News
Remembering the men of or with connections to Chicheley who gave their lives in the Great War.
Peace Day, 1919
On Peace Day, Saturday, July 19th 1919, the village was decorated with arches of flags stretched across the road at each end of the village. Coloured bunting adorned the approaches to the houses, whilst of the other decorations a particular feature was 'Hurrah, hurrah for England,' erected in a conspicuous position. The day began with a peal of church bells, which were also rung at later intervals, and the festivities proper were held in the grounds of Chicheley Hall. During the afternoon sports took place, and in the popular tug of war event after a rare tussle the team captained by Jim Clarke, who had won the D.C.M. in France, and was badly wounded serving with the 1/5th Lancashire Fusiliers, gained a good victory by two pulls to one. As for the cricket match, the married men proved triumphant over the single men. With the catering by Mr. and Mrs. A. Joyce, of the Chester Arms, a tea of ample bread and butter was enjoyed by 52 children, whilst as for the 120 demobilised men and the other adults, they were served a splendid supper of roast beef, mutton, etc. Thanking them for their courage, Lady Farrar proposed the health of the returned 'boys,' to which Sergeant F. Wormald, R.A.S.C. (M.T.)0 gave a suitable reply. Then on the initiative of Mr. T. Jones, of Thickthorn Farm, a hearty vote of thanks was given to Lady Farrar, for having allowed the use of her grounds. A concert was staged in the evening, and at 11.30p.m. a procession marched to the village centre, where, as the clock struck midnight, the gathering sang the National Anthem.
Private Vesey Clarke died from wounds, 1918
Aged 19, Private Vesey Clarke, of the 5th Battalion, Royal Berkshire Regiment, died on November 12th 1918 at the No. 1 South African General Hospital, France, as a result of wounds received in action on September 18th. Aged 19, he was the third son of John and Eliza Clarke, of Chicheley Hall, who received a letter from the Matron of the Hospital stating; "He will have written to you himself and told you how much better he was and that he was coming home. We actually got him ready to leave, and then a lot of them who were going had to be cancelled, he being one. We now think the disappointment must have upset him as he at once got worse and commenced vomiting. He had had several of these vomiting attacks before, but they had yielded to treatment. But nothing we did stopped the vomiting - even champagne did him no good. Everything possible was done for him. He was always so good and patient, and when feeling fairly well was very bright. … He will be buried in the Military Cemetery here at 9.15 on Thursday morning." Private Clarke had joined the army in June 1917, being posted to the Training Reserves. Later he was posted to the Somerset Light Infantry, and went to the Western Front on April 3rd 1918. Subsequently he was transferred to the 5th Royal Berkshire Regiment, and took part in all the severe fighting until he was wounded on September 18th, when a shell burst - which killed a comrade on either side of him - badly fractured his right thigh. He was subsequently admitted to the No. 1 South African General Hospital on September 21st, and, bearing the various operations to his leg very well, seemed to be making good progress. In fact he had written several cheerful letters up to November 7th, but on the 12th his parents received a telegram conveying the official news that he had died of wounds on November 12th. Born in Milton Ernest, before enlisting, he had been, as was his father, in the employ of Lady Farrar, of Chicheley Hall.
Private Ernest Needle killed in Action, 1918
Having joined the Forces on November 13th 1916, Private Ernest Thomas Needle, aged 23, of the Royal Marine Light Infantry, was officially reported as having been killed in France on September 2nd 1918. He was the eldest son of Mr. and Mrs. J. Needle, and had been formerly employed as horse keeper to Mrs. Waite, of Hardmead. At the end of 1917 he suffered severe wounds at Ypres in the neck and head, and subsequently spent 15 weeks in Dearnley Hospital, Manchester, before returning to France on June 3rd 1918. A staunch churchman, he had been a member of the choir, the Chicheley bellringers, and the Oxford Diocesan Guild of Church Bellringers.
Capt Cristopher Durrant killed in action, 1918
In the last week of July 1918 Captain Christopher Martin Durrant was killed in action in German East Africa, aged 33. He was the son in law of the Reverend U.J. and Mrs. Easson, of Chicheley Vicarage, where his widow was resident. Formerly serving in the Royal Marine Artillery, for some while he had been in German East Africa, having command of a Stokes' howitzer battery attached to the Rhodesia Native Regiment. (Nyasaland Field Force.) This was operating with the 2nd Cape Corps, under General Northey, and whilst in action with the battery he was instantly killed when a premature explosion occurred in one of the howitzers. (In a full choral service, it had been at St. Lawrence Church, Chicheley, that on the afternoon of Thursday, May 4th 1911 Margaret Ellen Utten Easson married Lieutenant Christopher Martin Durrant, of the Royal Marine Artillery, the son of the Reverend Charles Aubrey and Mrs. Durrant of Wetherby Vicarage, Yorkshire. Sent by Captain and Mrs. Farrar, the flowers and hot house plants decorating the chancel had been arranged by Mr. R Tompkins, and his fellow workers at the gardens of Chicheley Hall, and an additional colourful aspect were the full uniforms of the groom's brother officers. With the bride's sisters, Una and Katherine, in attendance, the ceremony took place in perfect weather, and many people had come to watch. Then after the service, under the instruction of Mrs. Garrett the twenty children who lined the approach strewed daisies at the feet of the couple as they left the church. As for the wedding of Miss Katherine M. Utten Easson, the youngest daughter of the Reverend U.J. Easson, she would marry Major Douglas Granville Sharp at All Saints, Margaret Street, London on Tuesday, July 20th 1920. Her sister, Una, would be one of the bridesmaids, and she was given away by her eldest brother, Alastair. Yet there would be tragedy in June 1943, when the couple's eldest son, 21 year old Lieutenant Ian Granville Sharp, of the Royal Marines, was killed in action. At Chicheley Church, at Evensong on Sunday, October 5th 1952 a tablet would be unveiled to his memory.)